The Little Angels Lacy Baby Bonnet
The design is based on the
Super Quick Baby Bonnet
. I really enjoyed that pattern but wanted to make one that was preemie baby sized to give to local hospitals. This is the end result. Please let me know if there are any issues or questions with the pattern. Currently I'm working to make other sizes; will post those once they're finished.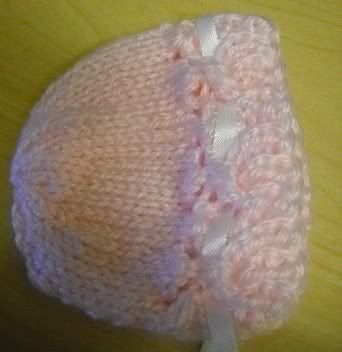 Materials:
Yarn: Bernat Baby Softee (or any DK weight yarn)
Needles: US size 3 double-pointed needles
Directions:
(Note: For every row, stitches located between a set of * are to be repeated until end of the row unless otherwise noted.)
Cast on 45 stitches.
Row 1: k1, *p1, k1*
Row 2: p1, *k1, p1*
Row 3: k1, *p1, k1*
Row 4: purl across
Row 5: K2, *yo, ssk, k1, k2tog, yo, k1* until one stitch left, k1
Row 6: p2, *p1, yo, p3tog, yo, p2* until one stitch left, p1
Row 7: knit across
Row 8: p2, *p2tog, yo, p1, yo, p2tog, p1* until one stitch left, p1
Row 9: k1, ssk, *yo, k3, yo, slip 1, k2tog, psso* until 6 stitches left, yo, k3, yo, ssk, k1
Row 10: purl across
Row 11: knit across
Repeat rows 10 and 11 until desired length (I usually make mine about 2.25 inches) ending with a wrong side (purl) row.
Next row: k1, make 1, knit across (46 stitches)
Decrease Rows:
Divide stitches onto 3 double-point needles as follows: needles 1 and 2 - 15 stitches each, needle 3 - 16 stitches. You will now be knitting in the round.
Row 1: slip end stitch from needle 3 onto needle 1, knit 2tog, k2, k2tog, *k3, k2tog* (36 stitches)
Row 2: knit round
Row 3: *k2, k2tog* (27 stitches)
Row 4: knit round
Row 5: *k1, k2tog* (18 stitches)
Row 6: knit round
Row 7: *k2tog* (9 stitches)
Cut yarn. Weave end through remaining 9 stitches and pull closed. Weave in ends.
Attatch ribbon as desired, either by lacing it across the bottom or through lace portion of the bonnet. Another option is to create an icord and attacth that to the bottom of the bonnet where the ribbing is located. Make sure the ties are long enough to tie under baby's chin.
Happy knitting!
Am so happy to present this knitting pattern to you all; a preemie-sized baby bonnet.