Leg Warmers for Miss Lyla
The day after she was born it was discovered that my neice, Lyla, has hip displasia. Her little hips pop whenever her legs are extended fully. As a precaution she must wear a brace to keep her hips in place while the bone solidifies. Therefore, no pants for her; only leg warmers.
Now what kind of auntie would I be if I didn't make my little neice some fashionable, one-of-a-kind clothing to wear? A hunt online found many free patterns. For now I picked two to try.
Pattern:
Baby Leg Warners
by Maggie
Yarn:
Rowan Classic Natural Silk Aran
Needles:
US size 5
Modifications and Notes:
Followed pattern exactly (gasp! :P) This is a very simple pattern; deliberate choice to show off the yarn. Have never used this yarn before, and it's pretty nice. I had two skeins and have a good amount of the second left over.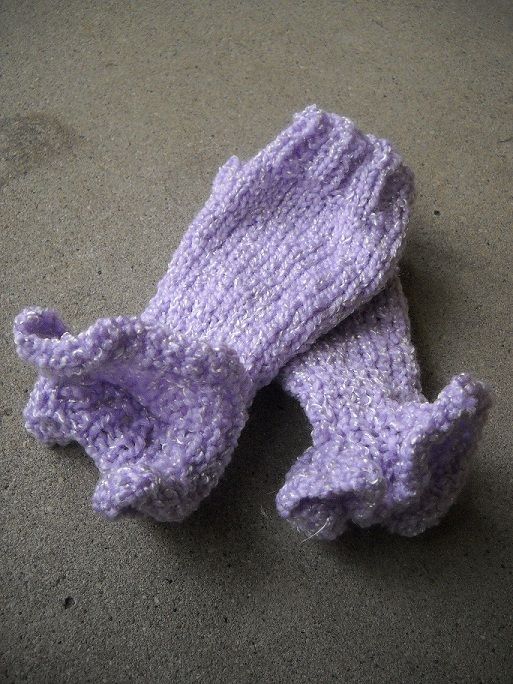 Pattern:
Ruffled Leg Warmers
by Eileen Casey
Yarn:
Bernat Baby Coordinates in soft mauve
Needles:
US size 5
Modifications and Notes:
Again, followed the pattern exactly using the instructions for the smallest size. I used slightly thinner yarn than called for in the pattern so these will probably fit Lyla now rather than when she's 6-9 months. Love the ruffled flares at the bottom.
Oh yeah - she's gonna be one stylin' young lady.
Happy knitting!
When my mom came home from her trip up north to visit the new little one in our family she brought news. My sis gave her a message,"Tell sis she needs to get those knitting needles busy; Lyla needs some leg warmers."